Emmanuel United Methodist Church
Pastor Darryl's Sunday Reflections
Sunday, June 13
See all of Pastor Darryl's Sunday Reflections.
---
---
Music at Home with EUMC
Worship through music with our Bell Choir as they perform "Come Thou Fount of Every Blessing."
Suggestions for singing His praises at home:
Get Everyone Involved: Make music a family event by taking turns picking the songs to listen to; be open to singing songs in any style; have young children play on self-made or improvised instruments and older kids play musical instruments.
Use your Bible: Find Bible passages that go along with your favorite songs. Read them aloud or share with friends.
Try New and Different Things: There is a broad spectrum of Christian music out there and the internet has thousands of different stations to listen to. Try listening to your favorites and new songs; sing, dance or draw to them as well!
Use Technology Creatively: Make use of a variety of materials and resources, most of which are freely available online. You could create a playlist of your family's favorite worship songs on Spotify or YouTube. Many videos even have the lyrics with it to sing along. Now there are also countless virtual choirs sharing their musical gifts from a distance.
Songs of Encouragement and Comfort
Whether you are a singer, dancer, instrumentalist, or attentive listener, these songs offer both encouragement and comfort. Listen to each one on YouTube by clicking the name of the song.
---
Welcome to the faith community of Emmanuel United Methodist Church! Our doors are open to all through worship and fellowship, with various opportunities to nurture your spiritual growth. We invite you to come grow with us as we recognize and answer our call to faith and Christian discipleship.
---
Mission
Emmanuel United Methodist Church strives to be a caring Christian community. We invite you to join with us on our spiritual journey. As a community of believers in Christ, the people of Emmanuel affirm that our faith is shaped by the inspiration of Scripture, by a personal experience of God as revealed in Jesus Christ, by the insight of reason, and by the wisdom of tradition. We believe that our faith is manifested in service to others. We value the gifts of each person, and encourage each to use their gifts in responsible stewardship and service to others.
---
Services
Our worship services feature a biblically-based sermon, a blend of traditional and more contemporary music, and a special time for children. Communion is observed the first Sunday of each month.
Service Times
Sunday Worship - 10:00 a.m.
Sunday Class (September - May): Adults – 8:45 a.m.
Sunday Class (September - May): Children – 9 a.m.
Monday Evening Prayer & Healing Service (2nd Monday each month) - 6:30 p.m.
Wednesday Adult Bible Study (September - May) - 9:30 a.m.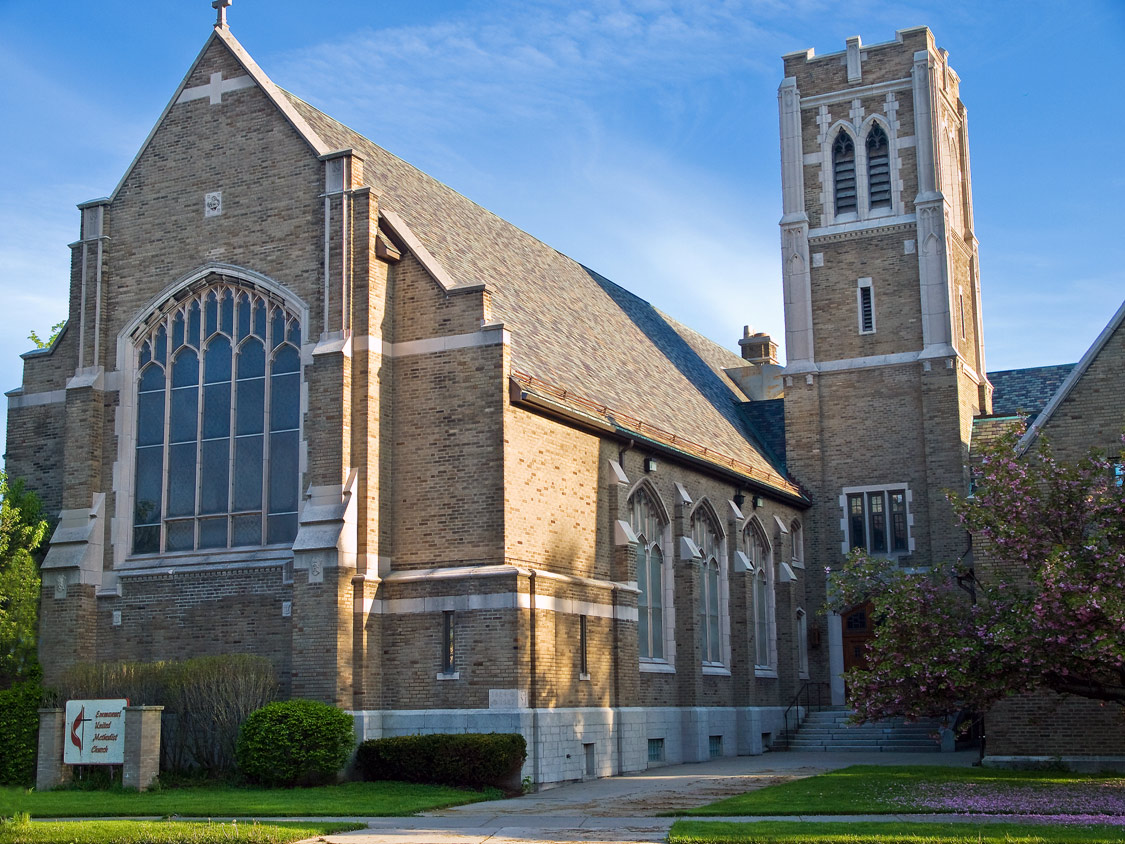 Emmanuel United Methodist Church
75 East Ave.
Lockport, NY 14094