Pastor Darryl's Sunday Reflections
August 2:
---
July 26: Nothing Shall Separate Us: More Than Conquerors
Romans 8:26-39
But here is what we know; persecution is rampant in our society, evidenced by the number of young black and brown African American men killed week by week, the Jewish cemeteries and synagogues are being defaced, undocumented children are being mistreated, and women are abused by those who are supposed to love and care for them. Persecution is closer than we realize. It is not happening in some faraway place. Whether the hardship and distress are personal or societal, that it exists is undeniable. But can we take Paul at his word and claim the victory that he offers in the love of Christ?
---
July 19: Nothing Shall Separate Us: Creation Waits
Romans 8:12-25
We are all debtors; we like to think we are free and unfettered, but we are bound together in human community – Nothing Shall Separate Us. And the truth is that we are better that way. We are able to be glorified, to reach our full potential, to claim the gift of eternity, because of the debts we accumulate, because of the relationships we are blessed to live in, and because of the community that we are becoming.
---
July 12: Nothing Shall Separate Us: Set Your Mind
Romans 8:1-11
When we set aside what this culture calls "looking out for number one," then we become more truly alive. That's the invitation, my dear friends. Set your mind on Christ. Set your mind on the things of the Spirit. Then live out the life in the Spirit that is ours in Christ that liberates us from hatred and frees us to love. Set your mind on things of the Spirit – compassion, kindness, fairness, unity today and every day – that can heal our broken spirits and empower us to help heal our broken world.
---
July 5: Freedom: How Free Are You?
Galatians 5:13-18 & 22-26
Freedom is a Christian concept. Now let's be clear, "independence" isn't really a Christian concept. It might even be considered antithetical to the faith. Our faith tells us about our need first for a Savior and then for one another who will become companions on our journey of faith, to be fashioned into followers of Jesus Christ. But freedom is something we can claim and something we can proclaim.
---
June 28: Open Our Eyes: Love All The People
Matthew 10:40-42
The Gospel passage is not just about the hospitality we provide, but about the hospitality we receive: "Whoever welcomes you, welcomes me; and whoever welcomes me welcomes the one who sent me," says Jesus. (v.40). It sets hospitality as a standard of effectiveness. Therefore, we must ask the question as a church: What are the proper metrics for judging the strength of a church or a ministry? We often think it is numbers – how many? But what if it was in grace given and grace received? That is surely harder to measure, but it is significant, at least Jesus seems to think so.
---
June 21: Open Our Eyes: Hear All The People
Matthew 10:24-39
We need to hear all the people. And of course, not everything said speaks of or is from God. Do we really need to say that? Maybe we do. There is plenty spoken in our world today that is the antithesis of what God is whispering in our ears and other ears. So this isn't a call to baptize every word spoken. It isn't a call to claim, "It's all good!" It clearly isn't all good. But there is good being spoken. This is a call to listen and discern.
And when we hear it, when we hear the voice of God in the voice of the people around us, then we proclaim it. Or when we hear a cry from the people that is a call to God, then we bring it into the light. When we hear all the people, we find that God is at work.
---
June 14: Open Our Eyes: See All the People
Matthew 9:35-10:1-8
[A] starting place seems to be lurking in this text. Not really lurking; it's right there at the front, where it belongs, right there for us to grasp: "He saw the crowds" (Matt. 9:36). That's our starting point. It is Jesus' starting point; therefore, it should be ours – our starting point as leaders in the church, and our starting point as a congregation wanting to engage the community around us; wanting to live as Pentecost people. "He saw the crowds." This means Jesus was within seeing distance, not removed, not behind walls and doors – you know we won't quarantine forever! It means that Jesus was approachable and accessible. Jesus was where the people were.
---
June 7: Where Do We Stand?
Genesis 1:1-2, 4a, 2 Corinthians 13:11-13 & Matthew 28:16-20
These three Scripture readings remind us of the insight that the essence of God is relational. God speaks in the first-person plural in the creation story (Gen. 1:26). The Apostle Paul emphasizes community (2 Cor. 13:11-12). Jesus encourages baptism in the Triune name (Matt. 28:19). The partners in God's creation – God's people – are "we." The beginning of order, the beginning of ordered time, is the beginning of a human-divine partnership. God's voice orders the heaven and the earth, orders everything, and creates everything. The Word, which we know is God, calls the creation forth with intention and will. The very expression of the call invites participation: "Let there be, let us make." God is in community with what is becoming. Humankind is created in God's image, in love, for love, to care for the creation.
---
May 31: Pentecost Sunday
Acts 2:1-21
Pentecost is about the moment the church was born. It is about what the church of Jesus Christ is supposed to be. Pentecost is about being unified in words, and in a salvation that is for all people. Pentecost, therefore, means the church is alive in the world! I love reading the names of all these various peoples present at Pentecost. Do you?
I love the way they feel on my tongue…Parthians, Medes, Elamites, and residents of Mesopotamia, Judea and Cappadocia, Pontus and Asia, Phrygia and Pamphylia, Egypt and the parts of Libya belonging to Cyrene, and visitors from Rome, both Jews and proselytes, Cretans and Arabs – in our own languages we hear them speaking about God's deeds of power. I love the specificity, the particularity. All those Jews from all over the known world gathered in one place, hearing the good news in their own language. This is what is miraculous and powerful to me.
---
May 24: Ascension Sunday
Luke 24:44-53
Ascension Day is a minor observance, at the best of times. It is part of the mystical element of Jesus, supernatural, hard to understand, hard to see how it applies to our lives. Except that it is a part of the Creed: "Ascended into heaven and sitteth at the right hand of the Father." It is part of the story of Christ. It might not be our story, but it is his; except, he always turns it back to us – always. In Luke, it is a retelling of the Ascension at the very end of the Gospel. There Jesus connects his story with ours as he recounts the purpose of his mission and ministry on earth.
John 15: 11-17 & John 17: 6-12 (Read the scripture in The Message.)
Read Certified Lay Minister Joyce Hromowyk's sermon.
---
May 17:
Acts 17:22-31
---
May 10: The Promise, The Place, The Path, The Power
John 14:1-14
Jesus promises us a place. Think for a moment about how nice it is to have your place. So much of life is spent trying to find our own place, from the time we hope for our own room when our brother or sister goes off to college or when you would be able to afford your own place if you rent space with a housemate or to those often anxious days of asking what shall we do with the house, and is some retirement community the best option. To have a place simply means we belong. We have dignity and worth because we are God's children! We have space in which to move and act. We need not fear being thrown out because the rent hasn't been paid! If there is any incentive to Christian life and witness in the world, it should be this – we have a guaranteed place in God's scheme of things, both in this world and the world to come.
The wonder of it is that even when, to the rest of the world, we appear to have no place at all, no place to lay our heads, "wandering over deserts and mountains, and in dens and caves of the earth" according to the writer in Hebrews 11:38, we know God has prepared for us a city; we have a place. Surely it is this knowledge that helps explain the freedom of a Mother Teresa to find a place in the slums to minister to the dying, the freedom of a Martin Luther King, Jr., to accept a place in the Birmingham jail, and the freedom of all those men and women through the ages, and in our day, too, to do the right thing without caring what people thought. They did not have to earn a place in history, because they already had a place in the heart of God. What greater security can we seek than this, Jesus has promised a place for us!
---
May 3: Someone To Watch Over You
John 10:1-10
What a beautiful idea: that there will be those that lead whose very voices might tell us they are for us. We are safe. We will be cared for, and we will know them because they enter through Jesus himself and the sound of their voices will draw us to him. This is the Davidic vision of God's kingdom. David the shepherd boy knows of comfort and safety. From his childhood, he plays his lyre and keeps watch over the vulnerable ones in society. Jesus says there will be people like that for us.
I remember once talking to a friend from a different cultural part of the world who commented to me, "The tree does not stand far from the apple." Interesting, I think it is an inversion of what we might know as "the apple does not fall far from the tree" that may have been more about something lost in translation than a different philosophy – the tree does not stand far from the apple." I thought about my friend's take on the saying. In his version of things, the tree has agency – it exerts the power through which things happen, not the falling apple. It's not even clear that the apple has fallen or will fall. Almost as if, no matter how hard "We apples" so-to-speak try to be ready for the fall, and work with its momentum to get somewhere free of the shadow of the tree, and thrive, we will remain in the shadow of the tree. From the perspective of the tree, we can keep close and safe all who are ours – "the tree does not stand far from the apple."
---
April 26: Walking With Jesus
Luke 24:13-35
I think that we can develop a new set of eyes as the years go by in our walk with Jesus, a "second sight" that enables us to weather the storms of life and see Jesus appearing to us in ways we may have missed before. But that second sight desires a new lens. That lens is the scriptures. When we adjust our lens by reading the scriptures, by allowing the scriptures to test our way of seeing, we can bring Jesus into focus again in new ways and in living color. The scriptures are a kind of eye test and a set of adjusting lenses for us. When we read the scriptures, we fit ourselves with a new kind of lens in which to view Jesus. No matter how many times we read them or hear them, something new will appear that we never noticed before. They give us a kind of "second sight."
So from this week onwards, I encourage you to read the scriptures, read them as you never have before. If you have never done it before now, make reading the scriptures a regular part of your day. I will be willing to bet that it will change your vision about Jesus, about yourself, about your relationships, and about your world. You would grow closer in these relationships; every so often there is a moment of revelation, of true connection, where we suddenly see more deeply into ourselves and one another.
---
April 19: Reach Out and Touch
John 20:19-31
Several miles outside of the Indian city known today as Chennai lays a sacred memorial called the St. Thomas Mount. It is the traditional place where Thomas the Disciple was martyred after having journeyed there to plant one of the early churches and spread the good news of Jesus Christ. The courage it took to journey so far from home and to sow seeds of the gospel in what is today southeastern India must have required great faith on Thomas's part. Doubt is often seen as the opposite of safe. But in our reading today, we see that doubt can be a pathway that opens up and ultimately leads to great faith. One wonders what words Thomas found to convince people in such a different context that he had been witness to this miraculous act of power, and that its implications should be compelling for them.
Just one week after we celebrate the resurrection of Jesus, we are faced with the timeless story of what many refer to as "Doubting Thomas." Jesus appears to his disciples, and they get to see physical proof of his resurrection. Yet, later, when Thomas asks to see proof because he was not present when Jesus appeared the first time, and not content to believe the stories of his friends, he seems to be chastised by Jesus and, in our tradition, branded as a doubter. If we look closer, particularly to end of the passage, we see that in fact it is about us as the readers of the gospel and not about Thomas himself. Because, like Thomas, we as readers, would not have had a physical encounter with Jesus, nor will we have an exhaustive memoir of his life. What we have is the gospel, the story of the good news of God through the life and teaching, the death and resurrection of Jesus Christ. We as readers or hearers of the gospel fill our faith because we believe without the need to see. Thomas's story is for the ones who make their own way, those who cannot inherit religion but who will struggle to figure out what is true for them.
---
April 12: Easter Sunday
Colossians 3:1-4, Acts 10:34-43 & John 20:1-18
Derek Weber shares that there is a tradition in the Orthodox Church that says the preachers don't preach on Easter Sunday. Rather, they stand in the pulpit and tell jokes. It's a day for laughing at death: "Where, O death is your victory? Where, O death is your sting?" (1 Cor. 15: 55-57). He says, "Easter is a day for laughing at the enemy." I believe it is so because it is a day to embrace the Joy of Resurrection. How are we going to do that? How are we going to do that when some are grieving, even today? Some are too familiar with the suffering of the present moment to have a light heart. We are still secluded in our homes because of the COVID-19 pandemic. So, this moment isn't a time for me to try out my stand-up routine. Yet, I believe that laughter has a place in the pulpit today. So lean into the joy of this day and this season!
The lectionary defaults to the Gospel of John for Easter Sunday, even though the reading cycle we are in right now says it is St. Matthew's year. Both Gospel readings, however, make my heart leap with joy! John, in what Dr. Weber calls "the race of the century to the tomb, and Mary weeping in the garden, mistaking Jesus for the maintenance crew?" Bro. Matthew on the other hand, has "the only mention of the earthquake and the guards falling over like 'bowling pins' and the angel looking like a 'Las Vegas performer' with shining clothes and flashing lights, and then relaxing on 'the rock?' Matthew and the women seized with fear and great joy – how can one body contain all that diversity of emotion? Then Jesus popped in with a "howdy" and a mission, while they clung to his feet like toddlers greeting daddy, home from work. We know this hasn't been an easy road for Mary, the other women and the disciples, and it hasn't been an easy road for us either – there've been fears and doubts but we will save that for another day. Let joy have this Easter Day, even a joy that resides next to fear.
This is an unsettling day, when the certainties by which we had lived our lives are turned on their heads! When death we knew as final is only a momentary thing – only a passage from the life we know, to the life we long for. That's disturbing, even while it is exciting. Because if this is true, 'this eternity thing', if death is not what we thought it was, then who can say what else that we have chosen to live our lives by, might also turn out to be a lie that we've accepted as truth: concepts such as "might makes right" or "wealth is the greatest blessing"; or "it's every person for himself/herself in this rat-race of a world."
---
April 5: The Reading of the Passion Story
Luke 23: 1-49
The story of Jesus' triumphal entry into Jerusalem sets the stage for all that is to come. In just a matter of days, Holy Week takes us from the mountain of festive palms to the mountain of Golgatha's despair. And that is why we resist it so. I mean, do we really need the emotional rollercoaster of Holy Week? What's so wrong with just jumping from one parade to the next and skipping all the sacrifice and death stuff? What's wrong with simply moving on to the joy of Easter, with its white bonnets, Easter eggs, family, friends, big ham dinner, and of course the empty tomb? Well, I think we know the answer to that.
For starters, an empty tomb, at face value, is a lot easier to deal with than a dying, bleeding Savior on a cross. Add to that all the pain and suffering that comes with Holy Week, is it any wonder that the human tendency is to try and ignore the events of the week and simply move on to the Easter celebration? But as much as we'd like to skip Holy Week we know that the only way to Easter is through the cross. We know where the parade of Palm Sunday leads and we also know that we're part of that parade. That is to say, we know this intellectually. Our hearts are another story. Our hearts may be more in sync with the disciples and the fear and disbelief that led them to run away. It would seem that 2000 years later Jesus' disciples are still running away. Will he travel that road alone?
---
March 29: Dead Ends
Ezekiel 37: 1-14, John 11:1-6, 17-27 & 41-45
The emotions and mental strains of the last several weeks and for some even months have made many folks feel like life is coming to a Dead End. Rachel Hackenberg, a UCC pastor, writing in the Upper Room Devotionals last week, and so timely for where we find ourselves, said: "Today in our own lives these days feel like death – when life is scattered by unforeseen events, when faith can't find its breath amid the chaos, when the way forward seems impossible between a rock and a hard place (and I add, like finding ourselves at a dead end)." Hackenberg continues, "God asked Ezekiel: Is new life possible even now when the people despair? Is renewed faith possible for people whose spirits have suffocated from despair? Can community be rebuilt among people who are separated by fear and violence" (and I might add, by the fear affecting people caused COVID-19 virus around the world?"
Now, I want us to know that Hackenberg wrote this devotional piece probably 1 year ago – imagine that! Ezekiel replies honestly to these questions posed by God, "I don't know; but God, I believe that you know."And so today we could all use good news right about now, and I have Good News for you: God has a resurrection for us! Ezekiel's God has a vision for the people's restoration. Rachel Hackenberg concludes, "When nothing seems certain but chaos, when life has lost its footing and faith has lost its imagination, she says, we can confess that our future still holds something good, even if we do not know what it is. God knows."
---
March 22: Why Did God Allow That To Happen?
John 9:1-41
Tragedy can strike so quickly and capriciously. While going about our everyday lives, in a moment, in the blink of an eye, the world can be changed. As a nation, we've been living with that awful reality since 9/11. Thousands killed for no reason by complete strangers, who assumed, somehow in their mind, they were doing some good for this world. Then there are natural disasters: tsunamis, earthquakes, floods, tornadoes...
If you have avoided tragedy at this point in your life thank God that you have been spared, but consider yourself lucky as well. And now, as a world, we are dealing with the COVID-19 virus and the uncertain nature it has brought to our everyday lives. Recognize it is only a matter of time. In reading Psalm 23, many people have felt like their green pastures have turned into dark valleys. Haven't we all asked this question at one time or another in one form or another: Why did God allow that to happen?
Service Times
Sunday Worship - 10:00 a.m.
Sunday Class (September - May): Adults – 8:45 a.m.
Sunday Class (September - May): Children – 9 a.m.
Monday Evening Prayer & Healing Service (2nd Monday each month) - 6:30 p.m.
Wednesday Adult Bible Study (September - May) - 9:30 a.m.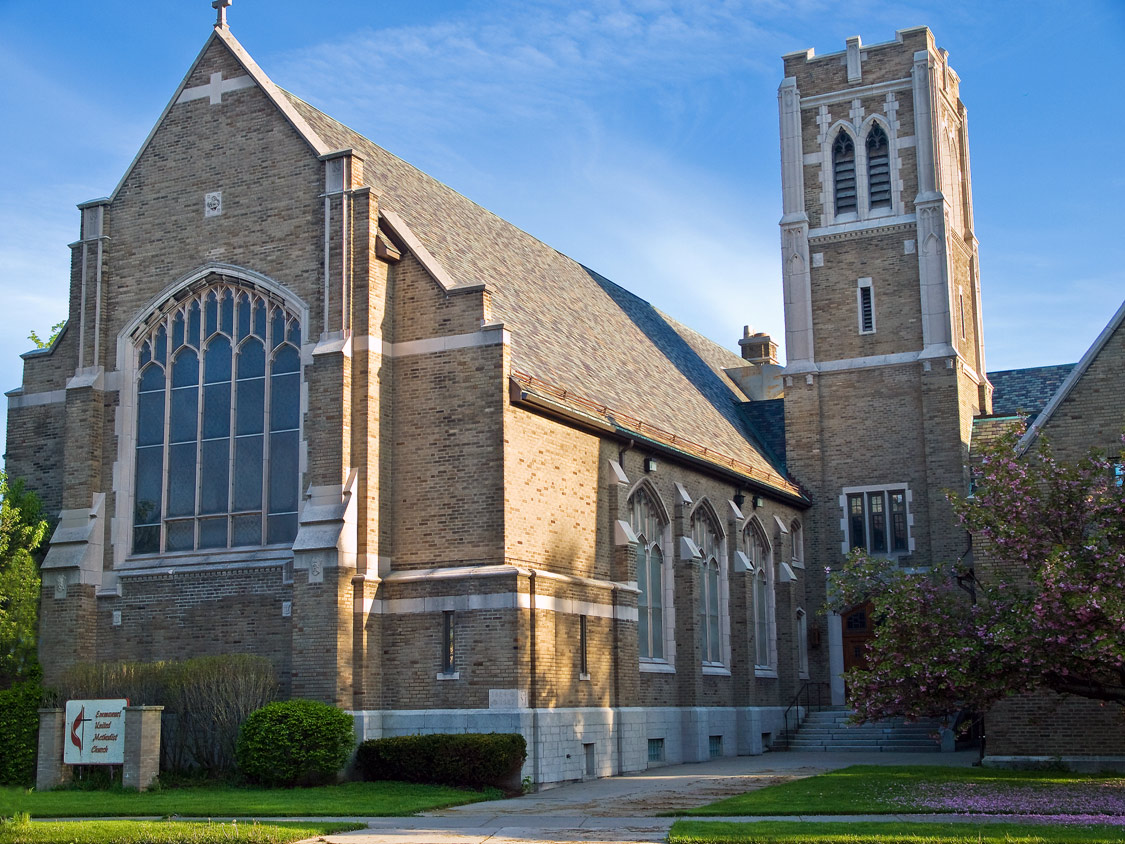 Emmanuel United Methodist Church
75 East Ave.
Lockport, NY 14094